Richard A. Lipsey from Baton Rouge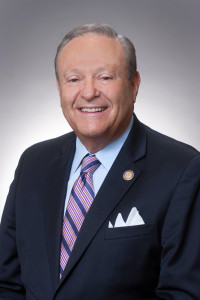 Richard A. Lipsey is the owner of Lipsey's, one of the nation's largest sporting goods distributors; HASPEL, a major line of men's tailored clothing; and the founder and partner in Lipsey Communications, LLC, a chain of Sprint wireless phone stores in Louisiana and Texas.
He is a graduate from University High School and LSU. After two years service in the Army, he returned to Baton Rouge and entered the family business, Steinberg Sports Centers. He became President in 1966 and remained so until he sold the business in 1990. Later he graduated from the Harvard Business School OPM.
Richard is currently a member of the Chief Executives Organization, the Board of the National Sports Shooting Foundation and the Mary Bird Perkins Foundation Board. Throughout the years, he has volunteered his time and served on many boards and chair capacities for companies and organizations and remains very active in various community and civic associations.
Among his numerous awards of the Outstanding Citizen of the Year (2000) from the Boy Scouts of Baton Rouge; the 2004 "Man of the Year" from the Baton Rouge Chapter of Ducks Unlimited, Shot Business Magazine's 2005 Man of the Year, and the 2005 National Conference of Christians and Jews annual Brotherhood Award.
During the crises that followed Hurricanes Katrina and Rita, he organized rescue efforts in New Orleans and led a fund drive to assist families who had suffered total loss from Rita. For these efforts, he was awarded the Humanitarian Award (2006) by the Anti-Defamation League.
He resides in Baton Rouge with his wife, Susan Haspel Lipsey, and has two daughters and three grandchildren.
Mr. Lipsey represents the 6th Congressional District, and his term of service ends December 31, 2018.